11 Jan

Hagere Tegegn, artisan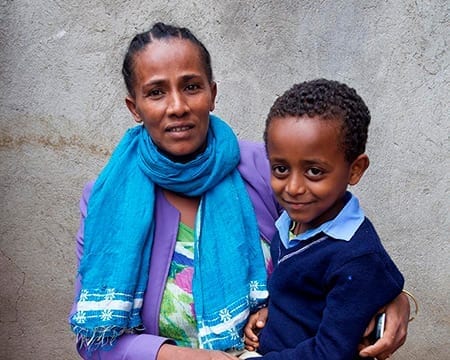 "After starting to work at Adera, my life has totally changed and my hope has flourished...I have friends that I spend the day with, which makes me laugh and enjoy my life. All this has happened because of Adera. Adera gave me my life back."
Hagere Tegegn is an artisan employed by Adera Designs. She is a mother of three children. Hagere, her husband and one of her sons are HIV positive. Since her childhood, Hagere passed through many challenges.  Before joining Adera when she was without work, she used to argue with her husband every day because they didn't have enough money to take care of their family. He often expressed his anger in abusive behaviors or language. Often her poor health would force her to spend much of the day in bed. She was underweight and had stopped taking care of herself. Hagere had lost hope. Many people assumed she was close to death.  
"God changed my story through Adera" Hagere testified. "After starting to work at Adera, my life has totally changed and my hope has flourished. The change began with my physical appearance. I gained weight and started to feel whole. I started to take care of myself and wear clean clothes. I now can buy whatever is needed for my children, which makes me feel so proud of myself as a mom. When my husband lost his job for a year, I managed to take care of all the expenses. Now I am bold and I can defend myself from my husband's abusive behavior. I have the confidence to participate in any social gatherings in my society. When my neighbors see me they usually use a saying in Amharic, 'A person's look tells you how he lives.' Which means your physical appearance testifies how your life is.   When I wake up in the morning, I am no longer worried about my husband's insults or arguments because I have friends that I spend the day with, which makes me laugh and enjoy my life. All this has happened because of Adera. Adera gave me my life back."
GIVE LIFE, GIVE HOPE, GIVE FAMILY.
Partner with a family in Addis Ababa, providing them with the invaluable support they need in order to keep the family in tact and provide for their basic needs for only $100.00 a month
Sponsor a Family