Partner With Adera. Invest In Change.
Partner with Adera Foundation by supporting our families and our programs.
Adera is in the business of long-term change, not in the project business. We are committed to transformation that starts with supporting families and providing for basic needs. Whether you want to partner with Adera by committing to a recurring gift or a one-time donation, we will ensure that your generosity is utilized to effectively meet needs and provide opportunities for women children, families, and communities in Addis Ababa, Ethiopia. You may give a general gift that will go to the area of greatest need or you may choose to give to a specific program. Explore the opportunities below and get involved in transforming the lives of children and families in Ethiopia.
Prefer donate via PayPal?
Other ways to Make a Difference
Explore ways to partner with Adera's ongoing programs. Each programs is carefully selected to meet genuine needs in a practical manner and to ensure long-term, sustainable change. Read more about three of our ongoing programs below and join us in contributing to a bright future for children and families in Ethiopia.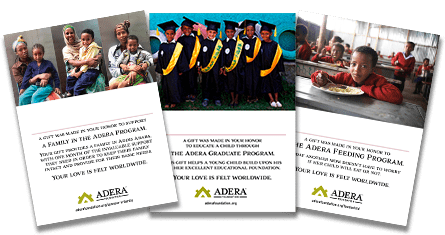 You can also give a gift in honor of someone.
Click below to give a Gift with Purpose. After your purchase, you can download a printable card to give as acknowledgement of your gift. This is a great option for Mother's Day, Father's Day, Christmas and birthdays.